The success and popularity of Threediots has sparked in the numerous clips and images of the show being turned into memes, fads, parodies, and other forms of Internet culture. The first part of a story arc Beware of Mug seems to have spawned the most popularity on the Internet.
Many of the Threediots memes are posted on video-sharing sites such as YouTube. Further information on these and other internet phenomena can be viewed on Know Your Meme.
Memes and fads
Edit
[X Cross]
Edit
Mug gets cross at Burke, says, "I doubt them, munc! Prepare the way for the coming Mug army! A new Muggy era is dawning!" and makes wierd noises.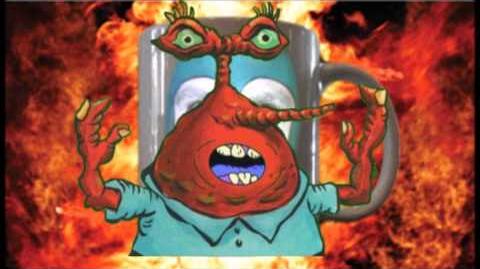 Viral: This scene has become a VERY popular meme on YouTube. It would involve characters from video games to TV shows (including other memes), to pop stars and politicians, even inanimate objects saying what Mug said. The meme is usually known as (Name) Cross.
Community content is available under
CC-BY-SA
unless otherwise noted.