Nintendo Video is a free downloadable application that enables the Nintendo 3DS to display videos in 3D, such as Threediots. It is the main application which a block named Cocktail Hour is shown on. Using the SpotPass feature, players can receive and view movie trailers, comedy clips, and music videos, all specially selected for their 3D functionality.[1] It is currently available in Japan, Europe,[2][3] and North America. Like the eShop, the service updates regularly. Users can have a maximum of four videos at a time, one of which is deleted with every update. However, starting October 20th, 2011, Nintendo released previously deleted videos on the eShop in North America, where they can be purchased as permanent additions to the 3DS menu.[4][5]
Cocktail Hour
Edit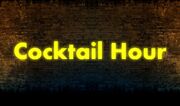 Cocktail Hour is a Nintendo Video block that airs Threediots and many other shows. It was launched on September 12, 2013. It is owned by Nintendo.
ThreediotsEdit
Threediots was one of Nintendo Video's most popular shows and currently the first original series on the application. As of September 6, 2013, the application has continued airing reruns of the show.
References
Edit
Community content is available under
CC-BY-SA
unless otherwise noted.